By the time we left Pakistan for Dubai, there were more than 300 cases of corona in Pakistan and about 150 in the United Arab Emirates. When I landed at Dubai Airport on the afternoon of March 18, the Dubai Airport, which was always full of passengers of different colors and races, was buzzing.
It takes a minute to get to the entrance of the airport lounge after getting off the plane, usually in these 60 seconds, people from 3 to 4 flights gather in front of the metro. However, on that day, only the passengers of our flight stood alone in front of the metro like Mirza Yar.
The thermal scanner was checking the fever of the passengers and we managed to get out of the empty lounges and galleries without any hindrance or by filling any form.
Quarantine did not yet have a formal system for ordinary travelers, but offices were urging employees returning from vacation to spend time in isolation at home.WRITING CONTINUESnull
At the airport, surrounded by senators, only one or two visa control officers were performing their duties. The flight we took to Dubai was one of the last flights to Dubai as Dubai Airport was closed to all flights until March 24.
In the last days of March, about 80 percent of private sector employees were transferred home from work. Schools and colleges had started online classes. By the end of March, the number of coronavirus patients in the United Arab Emirates was approaching 664.
The 'Sanitizing Lockdown' started on March 26 and was implemented for only 3 days from 8 pm to 6 am. During these 3 nights, every street and every part of the city was being disinfected. After 8 pm, traffic in the city would be closed, and people would not be allowed to leave their homes without a permit, while heavy fines would be imposed for violations. With traffic control being computerized, no one breaking the law could escape. Only police or sanitary vehicles or home delivery boys could be seen on the streets۔
Home delivery boys were the creatures whose jobs grew exponentially these days. Demand for this specialty has grown significantly as a result of recent corporate scandals.
The 3-day sanitizing program spread like a snake's gut and turned into a 24-hour lockdown. Then in the next 30 days, Dubai topped the list of the worst lockdown states in the Middle East, where every business was closed and people could not leave their homes without legal permission.
By April 6, the number of patients in the UAE had reached 2,076. With the exception of a few specific areas, most offices instructed employees to work online from home.
Although construction companies were open, construction work had largely stalled. Fever checks were carried out at the construction site in the morning and evening, and if a single patient came out, the entire site would be closed.WRITING CONTINUESnull
In the limited offices and supermarkets that were open, everyone was checked up before entering, and sanitizers and gloves were placed at the entrance of every store and at every counter. Each trolley is sprayed before and after use in supermarkets. There were 8-foot marks at each of the queues.
Surprisingly, in the worst lockdown, people were confined to their homes, but the number of Corona patients continued to rise. Corona had taken over the minds of the people and the nerves of the people had become numb while taking precautionary measures. It is true that people were so scared of Corona that they had gone from sleep to peace.
One of the main reasons for such fear in Dubai is that there is no such thing as a free media, so the idea of ​​challenging or debating the official statement is extinct and the public has no option to pick and choose. Conspiracy theories and rumors remain active here, but their focus is on the Five G Towers, not coffee and boiling water.
Strict lockdown remained in force till the first of Ramadan. Cinemas, gardens, beaches, playgrounds, salons were all closed.
Only one member of the household could make the necessary purchases for his family. Malls that are a staple of life here were completely closed, but online business flourished overnight due to the wide and fast internet presence.
Due to workload on online shopping centers, buyers are promised delivery with a delay of 2 months. In the evenings, people would sit on the balcony and sing Emirati songs, and the streets would be lined with police cars and horses. Heavy fines were imposed on those who left the house and violated the ban.
Police did not set up barricades to enforce the law, but the fear of fines automatically forced them to confine themselves to their homes, once they had to pay the fines.
The vast majority of immigrants cannot afford to pay a fine of 3,000, 4,000 or 5,000 dirhams for the slightest negligence, and the torture of the law was as active as ever to apprehend the few wealthy local Emirati who could afford it.
There was no prospect of a lockdown. People were tired of singing hymns and sitting on the balconies. Even light walks were not allowed outside the house. Large hotels and World Trade Center buildings were converted into quarantine centers. Public transport and metro services were closed. There were glasses between the passenger and the driver in the taxi, glasses were also installed at the reception and counter of every hospital and the hospital staff was dressed in safety kits.
With the cessation of business life, the cars in the houses also remained motionless, perhaps that is why the sky was getting brighter with each passing day. The lights of the Burj Khalifa were visible from afar.
But the most negative aspect of this lockdown was that people were being laid off in droves and the salaries of those who were rehabilitated were reduced. Without the means of employment, a person cannot live in an expensive city like Dubai for even 2 days a month.
The foreigners were demanding from their countries that they be expelled from here as soon as possible. Dirhams are needed for food, house rent, petrol, electricity, doctors and other essential goods and services, but now jobs, business, so to speak, every source of income was going out of hand, but there was no way back home. Air travel around the world was disrupted.
The government was helping as much as it could. Efforts were on to provide food to the deserving class. These days, visas near cancellation or cancellation have been extended till December, creditors have been given a 3-month repayment of loans, and a small section has also waived house and office rents. Doctors fighting Corona were issued 10-year visas and those on the front line were given bonuses.
At the beginning of Ramadan, the lockdown was restricted and the bazaars were opened from 6 am to 10 pm and the people were allowed to go out a little so that they could fast properly. But the relaxation came after a number of new precautionary laws and penalties were set. Fully functioning telephone lines and WhatsApp numbers were provided to guide the public so that the public could get quick and easy guidance.
Although citizens were allowed to walk on the streets, public places such as mosques, cinemas, parks, gyms and bars remained completely closed. Surprisingly, the number of people walking and cycling around the parks and on the streets had doubled compared to normal days.
In order to boost their immunity, a large number of people started going for daily walks and exercise during the month of Ramadan, but even during this holy month, mosques remained closed for all kinds of gatherings, including prayers, Friday prayers, Taraweeh and I'tikaf. Are closed
Restaurant and cafeteria seating was limited and the distance between them was increased, while all restaurants were open 24 hours for home delivery. Malls were opened with Ramadan, but thermal scanners were installed at the entrances of all places, while children under 12 and those over 60 were barred from entering.
Only 30% of the general population was allowed to shop in the malls for 3 hours. Customer capacity was limited in each store.
Iftar tents are an important feature of governments and societies in the region where free iftar is arranged for the people, but this time the activity was completely stopped. The official Iftar distribution process was carried out in a new way by making walk-in at a reasonable distance.
The fines were doubled so that the rush of iftars and shoppers would not get out of control. In the UAE, it is customary to keep malls, restaurants and cafes open all night during Ramadan, as it is the only month in which people stay up all night and sleep during the day.
Unlike in Pakistan, the bazaars here are not closed till 12 noon, but in normal months, grocery and supermarkets open at 8 am and in Ramadan, it is a tradition to keep them open 24 hours a day. Keeping in view the same routine, this time as a precautionary measure, shopping centers and restaurants were instructed to be closed from 8 pm to 10 am the next morning, ie there was a complete lockdown on pack hours.
Everything was forbidden at home, from Iftar parties to sending Iftar to neighbors, but only a few members of a close family were allowed to entertain. The process of sanitizing, spraying and maximum testing and driveway testing continued in full swing. The intensity with which all these laws were being enforced is unthinkable in Pakistan. Cases of violations of the law were not even equal to the salt in the flour. But Corona's cases were growing despite such strict regulations, and by the end of April, 27,000 tests had been performed, resulting in more than 12,000 patients.
But if anyone was thinking that they would get freedom from lockdown on Eid, then it was a delusion that the fines were increased by adding 3 hours more to the 3 days of Eid lockdown. Eid prayers were offered at home. There was a complete ban on mail meetings, and in case of violation, both the guest and the host would be fined separately. That is, when the government felt threatened by public gatherings and parties during Ramadan and Eid, tougher sanctions were imposed and heavier fines were announced. It was not like the people have to buy Eid clothes, so end the whole lockdown immediately.
The hardest lockdown of 2 months was certainly no less than a severe test for the public as the majority of the people here were confined to one, two or three bedroom, or studio apartments. What would be the state of mind of the frustrated immigrants for whom only going out was a source of entertainment?
By this time, the majority of the working class had lost their jobs and one lakh people in India alone had lost their jobs. Lacking a source of income, people did not have the money to pay for rent, food and medical expenses. Recently, news came out about a family in Pakistan who was forced to sleep in parks after losing their jobs. When the news broke in a local newspaper, they were offered accommodation by the government.
By the end of May, the number of cases had exceeded 33,000. Although Dubai's efforts and hard work were considered one of the best in the world and led to a slight decline in the rate of cases, a full regulation was not possible.
No one knew when the lockdown would end, but after Eid, with some new rules and regulations, the lockdown in Dubai will be phased out and hotels, cinemas, markets, malls, entertainment zones and beaches will be open to the public.
Mosques and schools are still closed. Staff working from home are now back in the offices. 100% coverage is allowed in Dubai malls. Citizens are not currently allowed to travel from one state to another. Over a period of 4 months, 2 million tests have been conducted across the country and arrangements have been made for drive-through testing at at least 24 locations.
Restaurants across the city have turned over half their tables and chairs and sofas, still waiting for the situation to improve and for permission to allow the social distance law to stand firm and for how long, but now everyone, including children and the elderly, Permission to go to the place. Last weekend, children and the elderly were allowed to go to restaurants after 3 months, while most of the city's restaurants offered free meals to children under 12. In the meantime, the online classes will continue.
Mosques will reopen on July 1, four months later. There have been rumors of a partial reopening of educational institutions since September, perhaps introducing a new system for educational activities or limiting the number of students in classes, schools and buses. Although no increase in fees has been allowed yet, if such a situation arises, an increase in school fees will be inevitable.
In the current situation, some schools in the city are already closing due to rising costs. People are leaving companies and institutions in droves. While small companies and companies are going bankrupt, big banks, airlines, schools and construction companies are also relentlessly trying to reduce their budgets and sizes.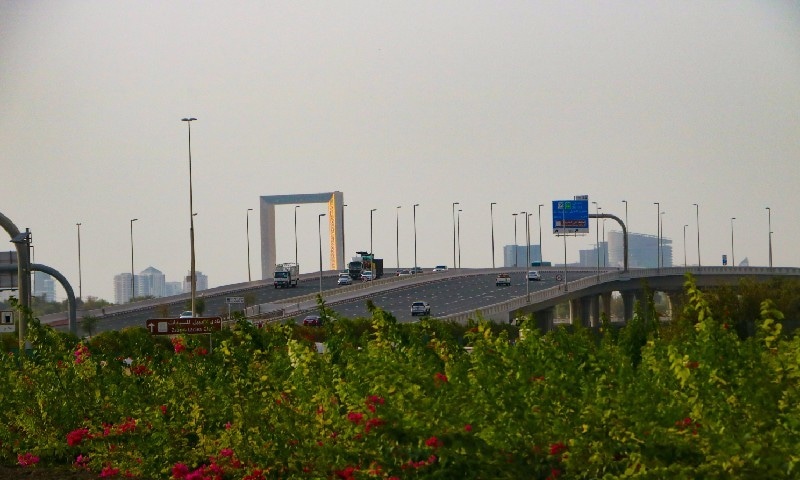 Dubai is now fully open, but the last three months have plunged thousands of people and lives into darkness.
The death toll is low, but the number of survivors who have been fleeing the shelter with their families for years is many times higher. When people lose their jobs in Dubai and go to India, Pakistan or Bangladesh, they will have no golden hope.
Government agencies in the UAE are at a crossroads on how to stop the spread of Corona without braking the economic vehicle. In this regard, Dubai may have to make full use of its high-speed technology and controversial FiveG in the coming days.
Corona's fog probably won't go away without changing the world. Even a Middle Eastern state like Dubai may not be able to recover from the epidemic and its aftermath, despite all its efforts.
---
Photos & Write up by Sofia kashif